This one's for da Hawaiians. Kalua pork and cabbage is a local fave. and Pat misses it living here on the "mainland". :) I was going to try to make
Heather's
slow cooker pork recipe, but I had a hard time finding mango salsa, so I scrapped that idea and decided to stick with the tried and true. So grab a knife and let's get started!!! Tenderize that pig!!
This recipe is super simple, yet oh so good. Even Pat is taken back to his local boy childhood when he eats this. Now pour on that Hawaiian salt (I use Kosher salt).
And rub it in!
Next drizzle the liquid smoke over the top (this is why the girls were holding their noses and making those dreadful faces!!), cover and let er' cook for 8 hours or so, depending on how much meat you use.
8 hours later you have a wonderful island meal.
This picture is horrible I know, it doesn't do it justice, but I got so excited to eat that I almost forgot to photograph the final result. Notice we added yummy cabbage…I put extra in because "I-Lok-It-A-Lot". This is what it's supposed to look like: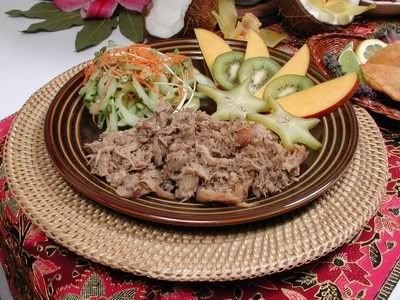 Recipe:
1 (6 pound) pork butt (or shoulder) roast….(we used 4 pounds and had PLENTY.)
1 1/2 Tablespoons Hawaiian Sea Salt….(we used Kosher salt)
1 Tablespoon liquid smoke flavoring
Pierce pork all over with a carving fork. Rub salt then liquid smoke over meat. Place roast in slow cooker.
Cover and cook on Low for 16 to 20 hours, turning once during cooking time.
Remove meat from slow cooker and shred, adding drippings as needed to moisturize.
(We also steamed cabbage and rice to add…and tomorrow we'll be adding bbq sauce to make yummy sandwiches!) I'm telling you this is some seriously good stuff…unless you're a vegan, in which case you probably threw up in your mouth a little bit while reading this. Sorry bout that!
Share the post "It's What's For Dinner: Kalua Pork And Cabbage"