Tell about a lie you later regretted.
Sigh.
This workshop was a tough one for me. I thought I'd do the poem, but I changed my mind at the last minute because I did a poem last week. The list was not good enough for me and I'm not a liar…so those were both out.
I mean seriously, I try to live as an example for others to look up to. I'm a role model now. To you. And I don't want to mess that up. So I was left with no choice but to write about one of my talents.
Boring, I know, but bare with me.
Seriously. Let's get naked.
No?
Ok just read then.
I'm going to divulge my biggest secret. I promised I'd never let on to my blog friends, and a lot of you may be surprised by this, but I am extremely talented.
I started playing volleyball with balloons when I was six. My sisters and I would create games in the living room and practiced diving across couches to stop the balloon from ever hitting the floor. By the time I was a Freshman in high school I was what one might call a "phenom"…or "prodigy" if you will.
Local newspapers wrote up my high school team weekly as we led the league undefeated. People started calling me "Miracle" because they felt like when they watched me play that's what they were witnessing.
I was the star. I did it all. I could hit, I could pass, I could set…I once served an entire game straight. We won that game without losing a single point.
Orange County came calling my Sophomore year in high school after watching me play with my club team during the off season and my parents packed us up so that I could follow my dreams. I enrolled at Archbishop Mitty High School in September of 1995.

It was there that I met Kerri Walsh. She was a year older than I and we became fast friends. I can't tell you how many days we stayed after practice to work on our game. She was such an eager learner and I was more than happy to help her improve because I knew she would help me seal a state championship for our team. And we did.

After high school we promised each other we'd stick together. Our dream was to one day play beach volleyball professionally. Kerri was extremely upset when she found out I was pregnant. I had no choice, but to retire and it killed me to hurt Kerri like that. She was devastated.

Try to understand, she thought her chances of making a career out of her talent had been destroyed. She couldn't fathom anyone good enough to replace me.

I could though.
And so I introduced her to my cousin…Misty May.
Turns out I was on to something there. I will always wonder what might have been had I not gotten pregnant with Maile. Could that have been me on the white sand in Sydney…bringing home a gold for our country? Could that have been me undefeated on the beaches of Hermosa? I'll never know.
But you know what!?!
Maile is priceless…I wouldn't change a thing. She has taught me to live my life authentically and honestly. That's why I never lie. Not ever.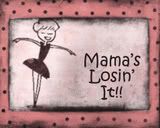 Choose a prompt, post it on your blog, and come back and sign Mr. Linky!!
The Prompts:
1.) Tell us about a lie you told that you later regretted.
2.) Choose a task you'd like someone to complete and write a poem asking them to do it.
3.) Describe a talent you have.
4.) Write a list of ten things on your mind this week.