Well crap. I replayed the "first day of" prompt because I thought since last week I posted Laina's "first day of preschool" post, this week I could do Maile's "first day of Kindergarten post"…just one small gitch…she hasn't HAD her first day of school yet. In fact her first day of school is TODAY, so my plan to repeat that prompt just isn't working out for me.
Instead I'm spending my morning wondering how I'm going to manage to snap pictures of Maile getting on the bus and then jump in my car to meet her at the school so that I can snap pictures of her getting OFF the school bus…mamarazzi fo sho.
In the mean time I'll have to fall back on a different prompt.
3.) List the pieces of you that have come from those around you:
My daycare mom voice and "you. are. in. serious. trouble. now. get. out. of. my. kitchen." kind of talking comes from my Mama…though I'll never master her art form of parenting.
My ability to find humor in all things and somehow manage to make you laugh comes from my Dad.
My "I'd rather stay home than spend two weeks in Paris" attitude comes from my homebody mother.
My love for wildlife and nature was encouraged and fostered by the Bob's she married.
My "don't mess with me" stubbborn streak comes from my big brother Bad Ass.
My "hurt my child and I'll give you hell" protective side comes from my sister Bianca.
My "Tell me what to do and I'll do the opposite to annoy you" attitude comes from my little brother Smart Ass.
My desire to be a better person and help people feel accepted comes from my big sister Lolo…though I'm not nearly as good at it as she is.
My desire to be the best mom and wife I can be, by first being the best me I can be, comes from my baby sister Baby.
Now it's your turn!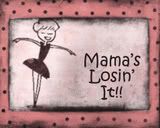 Choose a prompt, post it on your blog, and come back and sign Mr. Linky. For good comment karma try to comment on the three blogs above your name!!
The Prompts:
1.) What does marriage mean to you?
2.) Scaredy Cat!!!
3.) List the pieces of you that have come from those around you?
4.) The first day of…
5.) Transcribe a recent entertaining conversation you recently had with someone.