The last letter I wrote you was all about the surprise you had planned for me to be on your show on Monday September 8th. My people sometimes lose connections with important phone calls and sometimes cause me to miss events and what not…I'm certain that is what happened.
I try bribing my people to keep better track of my engagements by offering them popcorn and sweet treats, and they try, but these things happen. I also think sometimes callers are thrown off when four and five year old's make my appointments and maybe end the call prematurely. I'm still open to scheduling another date, let's try again.
For Halloween this year I dressed up as Wonder Woman. And by "for Halloween" I mean it was actually September, but I bought the costume in the "Halloween Section" at Target and that's kind of the same.
Anyways, it was wonder-full if you ask me! I pranced around the city of Seattle all day long and charmed the pants off drunk homeless men on every street corner. What's more flattering than that!?! The experience was amazing and the entire time I kept thinking…"this must be what Ellen feels like EVERY. single. day!!"
People begging for pictures, shoving their children at you for a quick shot, strange men asking you to hold their dogs, and fish mongers chanting "WONDER WOMAN!" as they toss fish at you at the market.
That's what you're like to me Ellen. Like Wonder Woman. Minus the magical cuffs.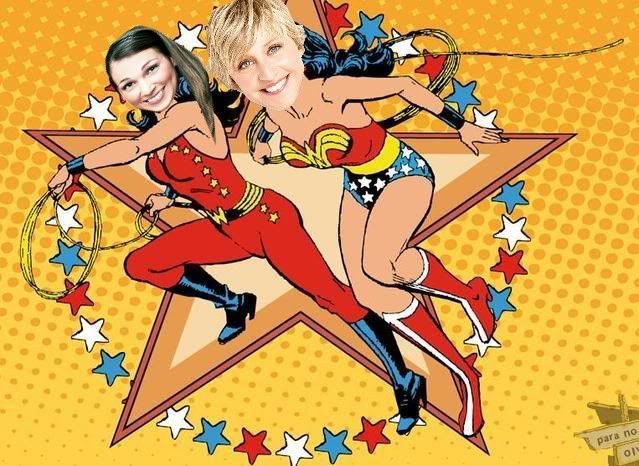 You know what I "wonder" Ellen? I wonder why you don't like me. And don't act like you DO, or like you're not aware I've been writing you letters for over a year now…your email screener HAS to have given you the memo by now.
Email Screener: Hey Ellen there's a mommy blogger writing you letters…wanna have her on the show??
Ellen: A what!?! A mommy WHAT!?!?! Ahahahahahahahahahaha. Ummm..no.
Why Ellen?
Why?
I wonder if I've been too pushy. I wonder why you can't see that I'm not just another pretty face. That there is talent hidden deep beyond these sparkling hazel eyes and this talent will not be ignored. That's not a threat Ellen. I am not going to extort you…unless you think that would make for a great show?? Perhaps? No?? I'm just saying I think your doing yourself a disservice by not recognizing the pull of the blogging mother. I'm just trying to help you.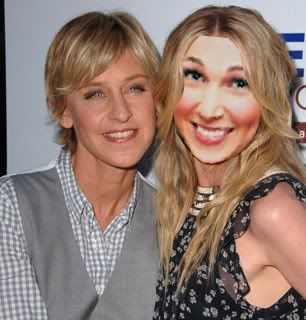 Sigh.
I try not to dream too big Ellen…I'm just a mom…sure I drink some, but I'm still a good mom. I realize my days for big dreaming are over. Let's face it, I run a daycare, I drive a mini van, I foster dogs, I cook fantastic chili, and I dream simple dreams…but this dream I will not let die Ellen. This dream….these letters…this hope…it's all. I. have.
Still….holding….on. Have your people call my people Ellen.
Mama Kat