I don't believe in coincidence.
In fact, if I didn't think you'd all laugh at me I'd tell you how I believe when street lights flicker on and off at night it's for me. But I don't have the time or energy right now to convince you that this is the case so I won't.
I also believe that when I dream about people who have passed they are really saying something to me. Sometimes it's a quick hello and everything is just as it was when they were here. Other times they're saying goodbye and waving happily. But EVERY time, I wake up with the warmest, happiest feeling. So lucky to have gotten a snippet of them again…to feel them again…even if it's only in a dream.
I wrote this poem for my step-dad after one such dream.
While struggling through high school after losing my Dad I would often write about how lost I felt without him. How unfair it all was.
I just missed him.
More than I can ever describe.
It was understandable, but there comes a time when you need to pull yourself together. You miss him. Yes. But when your focus in life is directed on how you were wronged and how you need that person back it can be hard to nurture other relationships the way they need to be nurtured.
I was hell to live with. I was not nice to people. I was unhappy and I was specifically irritated with my step-dad…for he committed the most heinous crime of them all…he had the audacity to exist on this planet and not be my Dad.
One night I had a dream. My life was the unhappy mess it had always been. I was still in high school. I was still failing math. Everything in the dream was as it was in real life.
In the dream my sister told me Dad wanted to talk to me.
"What??" I was confused. "Dad's not even here…"
"He is!" She said. "He's in bed and he's been waiting for you."
I hurried back to my parents bedroom and sure enough there he was. Bald still, and sick looking. "Dad!!! What are you DOING!?!" I started crying and fell to my knees, hugging him.
"Well it's about time you came to see me…" he said.
"What do you mean?? You died. You died eight years ago…"
And then he told me he never died. He had been there the whole time waiting for me, but that I had been so busy crying I never stopped to look for him. I felt ashamed and stupid.
How many years had I wasted crying for someone who was with me all the time? How many relationships had I sabotaged?
I cried.
I said sorry.
We hugged.
And then I woke up.
The peace I felt…
Now it's your turn!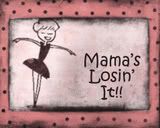 Choose a prompt, post it on your blog, and come back and sign Mr. Linky. Be sure to sign up with the actual post URL and not just your basic blog URL (click on the title of your post for that URL). For good comment karma try to comment on the three blogs above your name!!
The Prompts:
1. Describe a family you know that could benefit from the Liz Logelin Foundation. (Inspired by Matt's post, Foundation Update.)
2. If you were the type to believe in "signs," describe a "sign" you have received from someone. (Inspired by Matt's post, About An Hour Ago…)
3. Describe a time or moment when a stranger helped you. (Inspired by Matt's post, Thank You…)