5.) Write a poem to the item your loved one is obsessing over.
When I was little I used to get frustrated with my Mom's rules and my utter lack of power. I wanted SO bad to be the Mom and to send her to HER room for a change. She's not an animal lover. I told her that when I grew up I was going to own 100 dogs and 100 cats and keep them all in the basement…and when she came over I would let them all out. My punishment always got a good laugh out of her, but she had no idea how serious I was.
I have mentioned Laina's purple house before. Any time I tell her she can't have something she'll respond by saying, "well I have dat at my purple house!" or if I say she can't do something she'll say "I do dat all da time at my purple house!"
And like me, her imaginary house is also filled with animals (dogs to be exact)…less to spite and punish me and more because she really is just obsessed with dogs. She has lists and lists of actual names of dogs who live in this house and each of the dogs has an actual personality. Some cannot be near others because they bite, others are puppies, some go everywhere with her, others stay in cages…and on and on.
Ode To A Purple House
Purple house, sweet purple house, with your purple windows and doors
I'm sorry for your messy rooms and all your neglected floors.
My daughter it seems, has invented you for the party in her brain
It hurts her so, when I say no, but you mask the pain.
Purple house, sweet purple house, with Pongo and Perdita.
Scamp and Angel, Cecil and Jewel and sweet little baby Beeta.
There's plenty of room for them to run, you keep them warm at night.
And Laina is thrilled, her desires filled with her dogs all by her side.
Purple house, sweet purple house, with your purple painted playroom
My girl can finally play in peace and stay up to catch a full moon.
She can jump and she can dance, she will have her own computer,
Thousands of toys, no room for boys, for not one can seem to woo her.
Purple house, sweet purple house, for your loyalty I thank you.
If Laina did not have a friend in you I don't know what she would do.
But you are there, standing strong, you always seem to pull through,
And if times get tough, we don't have enough, We'll have a purple house to go to.
(Purple house painting by James B. Janknegt)
Now it's your turn!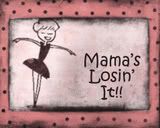 Choose a prompt, post it on your blog, and come back and sign Mr. Linky. Be sure to sign up with the actual post URL and not just your basic blog URL (click on the title of your post for that URL). For good comment karma try to comment on the three blogs above your name!!
The Prompts:
1.) Summer's recent post "I'm Sensitive And I Want To Stay That Way" talks about how her sensitivity works for her and against her, but that she embraces herself for the way she is. What is your cross to bear?
2.) What is one of your life mottoes?
3.) How do you deal manage the "death" talk with your kids?
4.) Describe a funny or favorite gift that you've gotten or have given.
5.) Is your husband a gamer? Does your child have an obsession with dogs? (ahem) Does your friend talk constantly of her undying love for Edward? Write a poem to the item your loved one is obsessing over.