It's really not a good idea to ask me to speak at your wedding. Yeah I sound all articulate and well spoken and crap on the blog, but in real life….not good.
At my sister Lolo's wedding I talked about how happy I was for her and my brother in law. How I remembered the nights we sat up painting each other's toe nails and giggling about the funny things he said or did. How I knew he was the one for her and all these years later it's clear that I was right.
Doesn't sound that bad, does it? And it wouldn't be that bad…if it were true. The truth is I can't stand feet, I never stayed up late giggling with my sister about anything, and I gave my brother in law a REALLY hard time when he was dating her.
I told him I liked her ex better and that the ex was like a brother to me and then my future brother in law said he didn't care if I died. I considered that a personal challenge. You sure as hell WILL care if I die!! So I won him over. But I couldn't exactly tell THAT story on their wedding day, which is why I made one up.
My little sister Baby's wedding wasn't SO bad…but I did announce to the lovebirds and everyone in the reception hall that Baby was "like Britney Spears" (who was off her rocker at the time) and her husband was like "Kevin Federline" (who was and is a complete douche rocket). And they're divorced…so awesome comparison on my part.
The great thing is that instead of recognizing that speaking in front of crowds is not my "strong suit" I actually volunteer myself to humiliate myself. Have I mentioned I'm going to be at the SITS Bloggy Boot Camp in March? If you're interested in watching me make a fool of myself in person be sure to sign up…although I'm going to attempt to do as little "talking" as possible and just more of the "drinking on the side and smiling" that I like to do.
In the spirit of wedded bliss and me not giving a speech about it, here are some recent pictures from a very dear cousin's wedding.
LOVED her dress!
I know this is way edited, but I looked super sweaty before and now I just look blurry…and blurry is better as I always say.
Our table….and my brother's number one. Apparently.
And of course I had to do a wedding dancers video part II…I do make a cameo in this one. Don't miss it.

(Dear Lord please don't let my uncle kill me for that last clip. Amen).
Now it's your turn!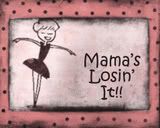 Choose a prompt, post it on your blog, and come back and sign Mr. Linky. Be sure to sign up with the actual post URL and not just your basic blog URL (click on the title of your post for that URL). For good comment karma try to comment on the three blogs above your name!!
The Prompts:
1.) Your pet wants to guest post on your blog.
2.) You wake up one day with an unusual super power that seems pretty worthless—until you are caught in a situation that requires that specific "talent."
3.) Write about a speech you gave at a wedding.
4.) Write a letter to someone you received poor customer service from.
5.) It's time to list your New Year's resolutions for 2010.