3.) What's in YOUR name? What does it mean? Why was it given to you? etc..
I'm Kathy.
A derivative of Katherine and named after my Grandma. I hate derivatives. I hate that my name can't mean something all by itself and that instead I have to steal Katherine's meaning and make it mine. Why should Katherine have to share her meaning with all the Kats and Kathys and Katies of the world?
Katherine means "pure" by the way.
Pure.
Free of any invasive, dirty, unwanted elements.
I suppose the meaning of Kathy would more accurately be a derivative of "pure"…maybe purely. As in "purely super intelligent"…or "purely incredible"….or "purely almost perfect but noooot quite there because to call yourself perfect would be superficial and borderline narcissistic"…
When I was five my family called me Wilbur. Like the pig. Because I was hungry and ate every last one of them under the table. They may or may not have oinked in unison whenever I asked for more. I don't want to talk about it.
I WAS GROWING!
When I was nine I preferred to be called "Katherine" because I thought it was more mature and refined and rich sounding. Perhaps deep inside I knew I was just a derivative of pure and I longed for the real deal.
When I was fourteen my oldest sister had a baby and my own Mother nicknamed me Aunty KaKa. It stuck. And if you don't already know than let me just inform you that kaka means poop. Which is really not very pure at all. They may as well call me "Aunty IMpurity". I mean THAT'S what a slap in the face it is. A disgrace.
When I was twenty my husband started calling me Kat. It caught on and has taken some of the blow from Aunty PoopPoop which I'm grateful for. Which is why I married him.
In blogland I go by Mama Kat. Because I'm a mama and I'm Kat and it just felt right putting the two together and quite frankly any improvement on Aunty PoopPoop is welcome at this point….although "Aunty Impurity Is Losin' It" DOES have a ring to it.
Now it's your turn!
Choose a prompt, post it on your blog, and come back and sign Mr. Linky. Be sure to sign up with the actual post URL and not just your basic blog URL (click on the title of your post for that URL). For good comment karma try to comment on the three blogs above your name!!
The Prompts:
1.) Time for your tangent…what is your latest complaint?
2.) If you could have given yourself a snapshot five years ago of what your life is like now, what would the picture be of and how do you think you would have felt about it?
3.) What's in YOUR name? What does it mean? Why was it given to you? etc..
4.) Write a letter to the first person who ever broke your heart.
5.) Welcome to the most shocking rose ceremony in writing prompt history. Please award roses to the ten people (or items) in your life that you'd like to continue pursuing a relationship with.
If you're playing along don't forget to add a workshop button to your page: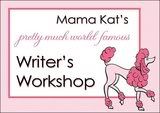 Copy and Paste Code