Write a poem to your love for Valentine's Day. :)
Before marriage and kids I ACHED for someone to love me on Valentine's Day. The chocolates, the cards, the candle lit dinners, the DIAMONDS! OH!!! I longed for it all. I saw the commercials and tv shows and movies of couples gazing into each others eyes, madly in love and I couldn't WAIT for it to be mine.
When I met Pat he was very much the "been there done that and it's not my thing" kind of guy and I was very much the "do you think I'm pretty??? HOW PRETTY??" kind of girl. Hard to imagine, isn't it?
I followed him around like a puppy dog on a mission, "what are you doing now? You wanna go somewhere? No? How 'bout now? No? Will you pet me? Will you love me? Will you feed me? Will you play with me? Will you will you will you!?!?!"
In the beginning, me "liking" him more than he "liked" me was definitely an ongoing issue. I couldn't understand why this man was not falling at my feet. I didn't know that some men just plain don't have the romantic gene. I didn't know that the whole "knight in shining armor" thing and the "I'm surprising you with a romantic getaway to France, no need to pack bags I will buy you everything you need when we get there" thing was ONLY a thing on commercials and tv shows and movies.
My man tried. Oh how he tried. But year after year it became excruciatingly clear that buying gifts and thinking up ways to "surprise" me were not his strong suit.
I remember specifically the pained look on his face as he handed me a dozen red roses after work one year on Valentine's Day. We were absolutely broke, but he knew it was the "romantic" thing to do and that it was what I wanted. Romance.
I happily took the roses from his hands, but I didn't feel like the girl in the movies that prances around and wraps her arms around her thoughtful lover. I felt guilty. I smiled. I thanked him. And then I told him he didn't ever have to buy me roses on Valentine's Day again.
My man is many things.
But my man is not roses.
Now it's your turn!
Choose a prompt, post it on your blog, and come back and sign Mr. Linky. Be sure to sign up with the actual post URL and not just your basic blog URL (click on the title of your post for that URL). For good comment karma try to comment on the three blogs above your name!!
The Prompts:
1.) Write a mock interview with a celeb of your choosing. Take advantage of having the power to make it go however you dream.
2.) Describe your worst winter weather story.
3.) Tell us about that scar.
4.) A list of dos and don'ts.
5.) Write a poem to your love for Valentine's Day. :)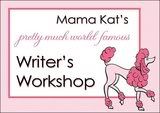 Copy and Paste Code