When do you first imagine yourself wishing you were older or bigger? Write about it.
Being little sucks.
I never liked it. And I've never been one of those people who wishes I could go back to the days when we ran free through our neighborhoods and picked blackberries on hot days and came home with purple fingers and really had no responsibilities to speak of.
Those were great days. But oh how easily we forget the firm restraint of our parent's law. No candy. No late night tv watching. No eating whatever we wanted. No cereal for dinner. No ice cream at midnight while browsing facebook friends. No no no no no.
I hated being controlled.
My Mom was the boss of everything.
Nothing irked me more than being told to clean my room only to have The Boss stand there with her arms crossed, foot tapping, eyebrows raised, waiting for me to get up that very second to clean the damn room. I liked to do things on my own time…which usually meant never and is why she would stand there like that, but still! It was annoying.
I remember screaming at The Boss in a bout of frustration and hard headed humility as I slowly picked the "little cruddies" off my bedroom floor, "WHEN I'M BIG I'M GOING TO GET YOU BACK…" I yelled tried to think of something REALLY good to get her with and remembering her distaste for four legged creatures, "I'M GOING TO HAVE 100 DOGS and 100 CATS LIVING IN MY BASEMENT…..AND I'M GONNA INVITE YOU OVER AND LET'EM ALL OUT!!!"
I wanted to grow up so I could be the one spanking and The Boss could be the one under MY rule. A little too young to understand that's not quite how growing up works.
I wanted to grow up so that any plans for my day were all made by ME. No one else. I wanted to be in charge. I wanted to be able to get a cat or go to McDonald's or drive aimlessly for no reason just because I could. I wanted to be The Boss.
And now I am.
And my kids are slobs. And I ask them to brush their teeth and clean their rooms and pick up their messes because SOMEONE around here needs to teach them how to live more like humans and less like piglets. Only they don't listen very well and I'm forced to bark my orders as opposed to requesting them nicely and I have to stand there and stare at them with my arms crossed, foot tapping, eyebrows raised, and wait for them to get UP to do whatever it is they need to do.
Yesterday Laina said she can't wait to be big. You see, we refuse to take the kids to the video store when there are missing videos in the house. Duh. You can't rent another video until the last one you rented is turned in. You'd think they'd stop losing their videos.
Instead I get this, "Mom! I'm gonna be big. An I'm gonna drive yer car all da time an go anywhere where I want to go. An I'm gonna go to da bideo store an get all da videos an I'm not gonna find dem. I'm just gonna get what one I wanna get an not find ANY."
Yes Laina. You grow up and YOU be that big Boss you're hoping to be. And YOU rack up $50 in fines on your lost videos and keep renting videos and have yourself a good. ol. time.
Now it's your turn!
Choose a prompt, post it on your blog, and come back and sign Mr. Linky. Be sure to sign up with the actual post URL and not just your basic blog URL (click on the title of your post for that URL). For good comment karma try to comment on the three blogs above your name!!
The Prompts:
1.) If you had to relive a day in your life what day would it be?
2.) When do you first imagine yourself wishing you were older or bigger?  Write about it.
3.) Could a routine become interesting through words?  Write about a person (perhaps you) caught up in a daily routine.  Establish a rhythm with the story's words that impersonates the rhythm of the routine.
4.) Describe how your relationship with your spouse is different then the relationship your parents had while you were growing up.
5.) Write about someone who is an underdog.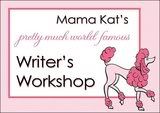 Copy and Paste Code
Share the post "Writer's Workshop: I Can Wear Big Kid Pants Too"