If you're not familiar with the MTV series I Wanna Be MADE! than you're missing out. To be honest we don't have cable anymore (people like you to pay for that) and I don't even know if it's still airing, but when we did have cable I loved it.
The premise is that MTV takes a kid with a dream to be something bigger or better or different, throws them a demanding life coach and transforms them from their plain old self into something bigger…or better…or different, whatever you get the point!
There's nothing per se, that I'd like to be MADE into now. I mean really…other than my cleaning habits, poor time management skills and lack of cooking talent…what is there to change??  Do I want to be MADE into a cleaning lady? A cook? A time management specialist? That would be a resounding no. Why no I don't.
But there once was a time when I was not as perfect as I am now. It didn't last long, but it happened. Try to imagine. I was 15 and awkward. I dressed in baggy jeans and boy shirts to avoid drawing attention to my growing bosoms and my face turned red when I talked to people. Not just boys. Or teachers. Or authority figures. Anybody. Just plain uncomfortable talking to ANYBODY. (Remember this is before I became ridiculously popular and powerful and perfect).
I knew I was awesome on the inside. I could make people laugh dammit that HAD to count for something. But you know what I couldn't do? SING!
I had a dream. A dream to be heard. A dream to be seen. A dream to be popular and desired and celebrated!
I had a dream to be MADE!
Into a singer that would bring my school to it's knees. The auditorium would fill with blackness as the school waited for the next talent show performer. You could hear a pin drop as I quietly made my way to the center of the gym…surrounded by bleachers of my friends, teachers, and cute older boys.
BAM! The spotlight would click on and there I would be. Just me and my guitar. Nervous yes, but confident and ready. There would be whispers, "what is SHE doing up there?" they'd ask one another.
I would open my mouth and "youuu say……I only hear what I want to. youuu say….I talk so all the time…..so…" and a hush would fall over the crowd. "Oh. My. Lord she's like an ANGEL straight from heaven!"

"And you thought what I felt was simple and you thought that I don't beLONG and now that I am leaving now I know that I did something wrong cause I missed you…..yeaaaaah I missed you…."
My friends would shrug their shoulder in awe, "we didn't know she could DO this" they'd say. People would start swaying from side to side, arms around one another.
"And you say………..staaaaayyyy….."
The crowd would break into a roar as I strummed my last…..strum!! People would rush to me after the talent show to congratulate me and invite me to parties. Everyone would want to be my friend. Everyone would request for me to sing at the school dances. I would be voted Homecoming Queen and my English teacher would go home feeling guilty about the inappropriate thoughts he was having about MEEEE!!!!!
Because who knew!?!?!
Who knew Quiet Kathy had SUCH a talent!?!
NOBODY knew THAT'S who.
Because there was no talent.
Only a dream.
A dream to be bigger….better….and different.
A dream to be heard. A dream to be seen. A dream to be popular and desired and celebrated!
A dream that could have been if only I had been MADE!
Now it's your turn!
Choose a prompt, post it on your blog, and come back and sign Mr. Linky. Be sure to sign up with the actual post URL and not just your basic blog URL (click on the title of your post for that URL). For good comment karma try to comment on the three blogs above your name!!
The Prompts:
1.) Ask someone who loves you what one of your weaknesses is.
2.) "I need all the help I can get and if repeating something healthy and inspiring to myself several times a day helps, then I'm going to do it!" -What affirmation makes you feel better? WELL THINK OF ONE.
3.) I Wanna Be MADE! You remember the MTV series where nerdy high school kids are made to be popular and what not? If you could be MADE into anything…what you be made into?
4.) I'm reading a book about dogs and kids…it says you may need to compromise some of your dog standards when choosing a dog that will fit every family member's needs. I think that's like marriage. What did you compromise when you married?
5.) Why didn't they ask you? Write a list of 5 or 10 sentences that begin with the words 'No one ever asked me'; then, write about one of them in detail, or use them all in a poem, or use several in a personal description of yourself.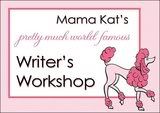 Copy and Paste Code