I had SO many pictures from Baltimore that I decided to make a Whrrl story aka a fancy slideshow so that you can just click through and see them instead of scrolling for years down one post.
I guess that wouldn't have been that hard to do.
Oh well whatever, it's a done deal. Enjoy my trip:
Now it's your turn!
Choose a prompt, post it on your blog, and come back and sign Mr. Linky. Be sure to sign up with the actual post URL and not just your basic blog URL (click on the title of your post for that URL). For good comment karma try to comment on the three blogs above your name!!
The Prompts:
1.) Write a letter to yourself from someone who has passed on. (ie: parent, grandparent, famous person, friend, pet, etc)
2.) Create and share a Whrrl story.
3.) Write a Haiku that describes what you love about an ordinary day.
4.) What lights your fire? Describe five things you are most passionate about.
5.) Share some photos and stories as well as what you love about spring.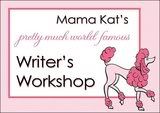 Copy and Paste Code
Share the post "Writer's Workshop: Whrrl With Me To Baltimore"