Describe a moment when you put your foot in your mouth.
This prompt so strongly speaks to me. I have, what my daycare assistant/friend likes to call diarrhea of the mouth. When I'm uncomfortable I just ramble to fill silence. I have to physically remind myself to shut my mouth. And by "physically remind myself" I mean I cover my mouth with both hands and shake my head violently.
I could talk about the time I called a daycare parent to let them know their little one had taken a good fall, but that she seemed fine and they could rest assured I would call again if she "starts seizuring or something."
Or the time I was gathered with five of my closest friends and singled one out in front of everybody to ask her WHO she hung out with in high school only for her to look at me blankly and say, "you guys."
Or the time in college when I received a phone call from my best friend's boyfriend who was all "I found out she's dating someone new" and I was all "Ohhh…she told you?" and he was all "No. You just did."
Or the time I insisted a girl in my class had stained her tooth with the Alexander Grapes she was eating and after drawing as much attention to her blue tooth as I possibly could, realized it was actually a bruised tooth and would keep that bluish hue throughout our high school careers.
Or the time that guy with the crossed eyes turned to ask me a question, and after looking to either side of me in an attempt to figure out who he was talking to, he was all "no I'm talking to you…my eyes are just messed up like this."
Or that one time I blogged about that one thing and that person took it the wrong way and I felt bad. Rinse. Lather. Repeat.
Or the time in ninth grade when my friend and I thought it was hysterical to take drinks of our water and then pretend to seizure only to have our coach pull us aside with a lesson about how her son has epilepsy and how we were totally and completely offending her every time we did that.
Or the time I wrote a bunch of posts about my psycho assistant(ex) only to have her discover them, get offended, quit her job, and attempt to bring the daycare down with her.
Oops.
The ol' foot in the mouth routine is nothing new to me. I do this kind of crap far too often. And as much as I despise that moment of realization when I just said something I really shouldn't have said…I continue to put myself in these situations.
Because I'm super smart.
And I talk too much.
Now it's your turn!
Choose a prompt, post it on your blog, and come back and sign Mr. Linky. Be sure to sign up with the actual post URL and not just your basic blog URL (click on the title of your post for that URL). For good comment karma try to comment on the three blogs above your name!!
The Prompts:
1.) Write about an experience you have had with a celebrity.
2.) Who have you forgotten about until right now? Think hard and list five people from your past that you really should have written something about by now but haven't. Circle the name of the person who stands out the strongest. Write a description or brief memoir of that person.
3.) List five things you would do different if you started blogging today.
4.) The world is going to come to an end unless you get a tattoo that covers your entire back. Describe the tattoo you'll get.
5.) Describe a moment when you put your foot in your mouth.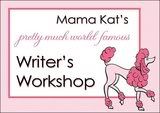 Copy and Paste Code
Share the post "Writer's Workshop: That One Time I Put My Foot In My Mouth"