Write a list of 100 things you want to do before you turn 100. Otherwise known as a "bucket list".
01. Assist in the delivery of a baby.
02. Volunteer for an emergency relief program.
03. Adopt a child…or four.
04. Prevent anything bad from happening to any of my kids ever.
05. Eat a baguette and shout "bonjour!" to someone while walking the streets of Paris.
06. Shout obscenities from a New York apartment while eating pizza.
07. Give someone a puppy.
08. Hand out cash to strangers.
09. Pay for someone's groceries.
10. Never run a marathon.
11. Bathe in a natural hot spring.
12. Write a book about what your daycare provider is REALLY thinking.
13. Have complete control of a grocery store intercom system for one full hour.
14. Be on The Ellen Show….or just have her respond AT ALL to one of the 13 letters I've written her so far.
15. Meet Martin Gray, author of my favorite book, For Those I Loved.
16. Sing with the Indigo Girls.
17. Be known.
18. Be present for the birth of each of my grandkids.
19. Free a dolphin.
20. Learn a song on the guitar and play it at a campfire filled with swaying friends.
21. Star in a rap video.
22. Climb a mountain.
23. Take my daughters on a girls trip.
24. Collect eggs from a Hen's nest.
25. Be invited to attend an exclusive conference.
26. Own vacation property in Hawaii.
27. Organize a trip with my best girlfriends.
28. Eat pizza at the Summer Olympics.
29. Author a children's book.
30. Ride a fast horse.
31. Surf.
32. Lose ten pounds.
33. Name a star after someone.
34. Eat pizza on a cruise to Alaska.
35. Get dressed up to go to the Kentucky Derby
36. Drive a boat around the Puget Sound.
37. Help a lost mom find her child.
38. Compete in a Betty Crocker cooking contest.
39. Read to old people.
40. Eat pizza in Disneyland with my kids.
41. Create a way for my husband to quit his job.
42. Watch a dog have puppies.
43. Eat pizza and play Scrabble on a blanket at the beach with my husband.
44. Learn to Hula.
45. Watch fireworks from the roof of someone's house.
46. Play catch with my son at dusk in the middle of the street.
47. Learn an authentic Italian recipe from an authentic Italian woman.
48. Visit a Concentration Camp.
49. Take my kids inner tubing.
50. Learn how to take amazing pictures.
51. Buy an SRL.
52. Hug a Hawaiian fire dancer.
53. Have my own "verified" Twitter account.
54. Read a novel while my house is cleaned by maids.
55. Spend a week on an island with my girlfriends.
56. Go diving in a ginormous aquarium.
57. Surprise my sisters with an all expense paid shopping trip.
58. Take my kids fishing.
59. Punch a child molester in the face.
60. Hug an orphan.
61. Provide dog therapy to hospital patients.
62. House an exchange student.
63. Live in a home with a view.
64. Attend a Greek wedding.
65. Buy dinner for a homeless man.
66. Have a picnic on a black sand beach.
67. 500,000+ page views on my blog every month.
68. Be the voice of a cartoon character.
69. Eat pizza in an RV as my family road trips the United States.
70. Receive a Swedish massage.
71. Ride a donkey through the Grand Canyon ala Brady Bunch style.
72. Write an article for the Seattle Times.
73. Shop for wedding dresses with a daughter.
74. Spend one week at an all inclusive resort with my husband.
75. Lay in a field of wild flowers.
76. Pray at the Vatican.
77. Successfully complete a corn maze.
78. Attend a BlogHer conference with a friend.
79. Enter a dog into a dog jumping contest.
80. Teach someone to ride a bike.
81. Work at a library.
82. Spend a day shopping without a budget.
83. Hold a pair of newborn twins.
84. Explore a castle.
85. Sleep in a hammock.
86. Drink coffee and read a book while my kids sleep and it's snowing outside.
87. Raise confident, happy, and well adjusted children.
88. Have drinks in an ice bar.
89. Mud wrestle.
90. Hatch chicks in an incubator.
91. Make blankets for motherless children.
92. Get my Masters Degree.
93. Read 100 books in one year.
94. Jog around a lake.
95. Have my tarot cards read to me.
96. Find my old high school English teacher…and save him for backup in case I ever divorce my husband.
97. Sing karaoke by myself.
98. Water ski.
99. Have a gay man pick out an outfit for me.
100. Go whale watching and actually see a whale.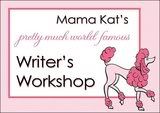 Now it's your turn!
Choose a prompt, post it on your blog, and come back and sign Mr. Linky. Be sure to sign up with the actual post URL and not just your basic blog URL (click on the title of your post for that URL). For good comment karma try to comment on the three blogs above your name!!
The Prompts:
1.) What would you change about your life if you could?
2.) I wish I would have…describe a time when you didn't take action, but later wished you would have.
3.) A collector you know.
4.) Photographs can turn a house into a home. Share a photograph that is not on your wall, but should be…if you weren't so lazy about actually putting it there.
5.) Write a list of 100 things you want to do before you turn 100. Otherwise known as a "bucket list".