10 Reasons why you love your job.
10. Because even though kids boss me around all day…I can't help but laugh at them.

9. Because if my kids want to sleep in I can let them.

8. Because I could clean if I wanted to…but don't…because I don't want to.

7. Because forcing children to look like this is part of what qualifies me to do what I do.

6. Because it pretty much sounds like fairies here all the time.

5. Because I can reach out for adult interaction at any time as a reminder that I actually am one.

4. Because laying down is always an option.

3. Because I can hire people I actually like.

2. Because my kids get to grow up in a house filled with friends.

1. Because as difficult as any day can possibly be? Holy hell…I get paid for this!

******************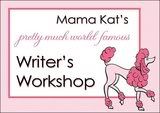 Now it's your turn!
Choose a prompt, post it on your blog, and come back and sign Mr. McLinky. Be sure to sign up with the actual post URL and not just your basic blog URL (click on the title of your post for that URL). For good comment karma try to comment on the three blogs above your name!!
The Prompts:
1.) In the book I'm reading,Girls of Tender Age,the main character is deeply affected by the murder of a childhood friend. Describe a tragedy you didn't expect to be as deeply affect by as you are.
2.) Tell us about a day you were sure you wouldn't get through.
3.) A time when you should have listened to your mother.
4.) Your pets least likable character trait.
5.) 10 Reasons why you love your job.