Write a post that begins and ends with a merry-go-round.
When Mom announced we were going to McDonald's one evening I grabbed my shoes and assumed my position in the van. All I could think about was that Merry Go Round. I mean seriously, can you think of a better name for that ride? It really is a merry feeling going round and round in circles. What wasn't there to love!?!
I was five years old and the merry-go-round was one of the newest additions to the McDonald's outdoor play area. All the children flocked to it. None of us had seen anything like it. And it was the ONLY reason I even liked to GO to McDonald's. Well…that and the fries…and the cheeseburgers…and large soda that my Mom liked to split between the six of us, "don't drink it all at once, you're not getting anymore!"
How much merrier could life get when a mini automated Merry-Go-round with stop and go buttons on the wall was involved?
When we pulled up I quickly ran to the play area, but noticed the new toy was jam packed with kids. No way was I going to fit on that thing. I stood back and patiently waited my turn when I noticed a n enthusiastic father attempting to snap pictures of his daughter each time the merry-go-round brought her around.
I felt the man needed a hand so I jumped up to the control panel and turned the merry-go-round off every time his daughter came to his side. Surely it had to be difficult to take a picture of her while she was moving! I considered it my call to duty and after about the 14th time stopping jolting the merry-go-round to a stop the children all complained and the dad snapped, "WOULD YOU LEAVE THAT DAMN THING ALONE!?!?!"
Ahem.
Startled, I stepped down from my perch and self consciously backed myself into a corner. I thought for SURE he was going to give me a quarter for my help with his picture. I was not prepared for his anger, though I suppose I DID go a bit overboard with the stopping and going and stopping and going and so forth, but STILL! Did I deserve such a harsh tone when I was only trying to help?
It was during this inner dialogue with myself that a child actually fell off the merry-go-round and got stuck beneath it. I stood next to my perch staring. Panicked parents yelling, small child screaming, chaos ensued….all I had to do was reach up and push the stop button. Stop the madness, stop the fear, stop the screaming child…this was not merry, not merry one bit.
But that MAN.
He told me not to push the buttons anymore. He yelled at me! No WAY was I going to push that button again. So I just stood there as a parent rushed from the other side of the play area to stop it himself and then everyone swarmed to unravel the twisted child.
I ducked back into the booth with my family when I heard the ambulance coming…clearly my assistance was no longer needed and I felt okay letting the paramedics step in to deal with the situation.
A lesson was learned that day indeed:
All is merry on the merry-go-round until a crazy man yells at a child who's trying to HELP him take a decent picture and then everything goes to hell in a hand basket.
******************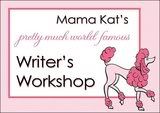 Now it's your turn! Choose a prompt, post it on your blog, and come back and sign Mr. McLinky. Be sure to sign up with the actual post URL and not just your basic blog URL (click on the title of your post for that URL). For good comment karma try to comment on the three blogs above your name!!
The Prompts:
1.) Childhood fears you've taken into your adult life.
2.) Write a post that begins and ends with a merry-go-round.
3.) Why were you mortified? Write about a true embarrassing moment as though it was happening in slow motion.
4.) Open letter to a celebrity.
5.) Oprah says we all have a story. If you were on her show, what would your story be? What would you be talking about? What advice would she give you? Write about it and provide a snippet of your interview together.