Show us where you live.
The view from my front door…
******************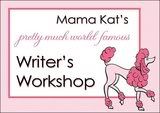 Now it's your turn!
Choose a prompt, post it on your blog, and come back and sign Mr. McLinky. Be sure to sign up with the actual post URL and not just your basic blog URL (click on the title of your post for that URL). For good comment karma try to comment on the three blogs above your name!!
The Prompts:
1.) Describe a job you absolutely would never want to do.
2.) Show us where you live. Not on a map (security please), but take a picture of the view out your front door, back door, or neighborhood.
3.) What makes you mad, and what are you going to do about it?
4.) In an effort to spread awareness, share your (or someone you know/love) breast cancer story
5.) If you could stop time for 24 hours, what would you accomplish?