What are your confessions?
My confession…
I remember being bored at 17, flipping through my mom's magazines, waiting for my friends to pick me up. Good Housekeeping, Better Foods, and Country magazines were stacked neatly in a pile near the recliner.
Who reads this crap? I'd think to myself. Do women really scurry to their mailboxes for Good Housekeeping, eager to find what new exciting bathroom makeover awaits them?
Maybe my mom did not know that Redbook and Glamour were chock full of tips on how to look amazing AND please your man!
Or maybe she was wise enough to know that her 17 year old skimmed her magazines and she didn't need her reading about "pleasing" anyone unless it entailed cleaning a room or folding laundry.
Bored, I would toss the magazine into its now messy pile…someday I would subscribe to saucier magazines.
And that someday was last weekend at the grocery store.
In preparation for down time, I quickly browsed a rack of magazines while the checker scanned my groceries, and then grabbed the magazine that made the most sense.
You'll be surprised to learn that I passed up Redbook and Glamour and even People or USWeekly for a copy of O Magazine.
Oprah.
And that's not the worst of it. I was so pleased with my O Magazine experience that I actually got online and subscribed.
Am I a hundred?
And that's not the worst of it.
After subscribing to O Magazine I was encouraged to spend just five dollars more for a YEARS subscription worth of a second magazine. I totally have five dollars so I subscribed to that one too.
Ahem.
It's…Good Housekeeping.
I don't know what's happening to me.
******************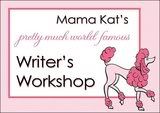 Now it's your turn!
Choose a prompt, post it on your blog, and come back to add your name to the link list below. Be sure to sign up with the actual post URL and not just your basic blog URL (click on the title of your post for that URL). For good comment karma try to comment on the three blogs above your name!!
The Prompts:
1.) Describe a moment when you ignored your intuition. What happened.
2.) What are your confessions?
(inspired by Usher)
3.) A time when you stuck up for a friend.
4.) Something you wish you hadn't put off til the last minute.
5.) Sarah Silverman once gave an interview where she described her childhood depression as feeling homesick while at home. How would you describe it?