Describe a memorable Thanksgiving.
Well it certainly wasn't the happiest Thanksgiving we'd ever had. To be honest, Thanksgivings never really stood out as something super exciting to me. A whole day where I get to look forward to eating turkey and cranberries and mashed potatoes?
Puke.
If Thanksgiving were a feast of pizza and hot wings and ice cream cake then MAYBE it would have a leg to stand on, but don't try to get me hyped up about a day of eating all of my least favorite foods.
The Thanksgiving that is most memorable to me occurred after my big brother was thrown from his car after hitting a patch of black ice on the other side of the state. I was in college and got a call that he had broken his back and was being airlifted to a hospital, but we didn't know much more.
My family is good in emergency mode…it's kind of "our thing". I did my part of course, by shutting myself into my bedroom and crumpling to the floor in a puddle of tears. You would think that having experienced the death of my dad at a young age I would be accustomed to the idea that at any moment everything can go wrong. Unfortunately I found the opposite to be true. You kind of feel like you paid your dues and that nothing is going to hit your family again after suffering such a huge loss.
Clearly now I know better.
Thank you Jesus for those awesome lessons.
When I pulled myself off of my bedroom floor I packed my bags and joined my sisters, brother, and step-dad for an impromptu road trip to meet up with my mom and sister who had flown to the hospital to be with my brother. We're lucky he survived. He really shouldn't have. You don't get ejected from the sunroof of a van going God knows how fast on the Interstate and walk away.
We ate Thanksgiving dinner in the hospital with him that weekend. The cafeteria food was still a step in the right direction as far as I was concerned. And even though my brother was in an excruciating amount of pain with a broken back…I was happy. Because he was alive and not paralyzed and flipping me off…just the way I like him.
******************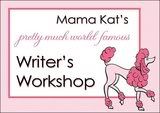 Now it's your turn!
Choose a prompt, post it on your blog, and come back to add your name to the link list below. Be sure to sign up with the actual post URL and not just your basic blog URL (click on the title of your post for that URL). For good comment karma try to comment on the three blogs above your name!!
The Prompts:
1.) Interview your kids…what do they think Thanksgiving is for? What are they thankful for? etc.
2.) Share a photo of what Thanksgiving looks like in your neck of the woods.
3.) Write a poem about the things you are thankful for.
4.) Describe a memorable Thanksgiving.
5.) Forget Thanksgiving, write about that time you fell down.
Share the post "Writer's Workshop: A Thanksgiving I Won't Soon Forget"