Write a poem about a time someone made you smile.
You sounded funny on the phone
Something fishy with your tone
Eager to meet us back at home
With a "package"…I should have known.
You opened the door up just a crack
You smiled at us, we smiled back
Not sure what to make of your strange pack
Until it opened and out popped Jack.
******************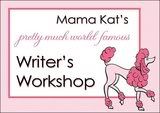 Now it's your turn!
Choose a prompt, post it on your blog, and come back to add your name to the link list below. Be sure to sign up with the actual post URL and not just your basic blog URL (click on the title of your post for that URL). For good comment karma try to comment on the three blogs above your name!!
The Prompts:
1.) Why are you burned out?
2.) Write a poem about a time someone made you smile.
3.) A list of 10 reasons you or do not drink coffee.
4.) An open letter to a celebrity.
5.) That one time you met your online friend in real life (was it everything you thought it would be?)