Simple.
My Mom tells me to live simply.
She should know.
Six kids, a daycare, a dying husband, a house to clean, a lawn to mow.
She's lived and learned and she KNOWS.
Live simply.
I should listen to her.
I know this.
I talk about expanding in business or upgrading our house
or having more babies, more pets, more.
She cringes.
Been there.
She begs me to listen to her.
Begs me to love my babies and watch them grow
and not to take on more than I need.
Live Simply.
But I am tempted by the glitter.
I must have the pretty things.
I get greedy for more.
To have more means to work more, to earn more, to do more.
To accumulate the pretty things I complicate my life.
What do you need? She says.
Live Simply.
I complicate my life for pretty things that will not follow me from here.
I do not listen to my mother.
I do not slow down.
I do not learn from her own regrets.
I do not live simply.
Who listens to their parents these days anyways?
******************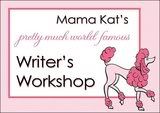 Now it's your turn!
Choose a prompt, post it on your blog, and come back to add your name to the link list below. Be sure to sign up with the actual post URL and not just your basic blog URL (click on the title of your post for that URL). For good comment karma try to comment on the three blogs above your name!!
The Prompts:
1.) Simple.
2.) Angsty.
3.) Excruciating.
4.) Enchanted.
5.) Bold.