What inspires you to write?
I started writing because my Mom thought my stories were amazing and would brag about me every time I brought her a new one to read.
I loved to hear her rave about me. My sisters and I still laugh about how only Mom can go on and on about us like we're super-human or something.
For example, she barely knows a thing about basketball and yet when my little sister would drive home with her after a game she would step-by-step replay some of my sister's moves.
"OH! The way you DRIBBLE! And it's like you just see everything that's going ON! That form! That grace! That speed!!! You are incredible out there! It's like, ALL eyes are on you!"
She would do the same thing with my writing,
"KATHY! My gosh this is AMAZING!!! How in the world did you come up with this? Your WRITING…you just draw such EMOTION!!!"
She has a way of making me believe her.
So I kept writing…mostly just to hear her call me amazing again.
She bought me a journal and raved about every poem I ever wrote. Even the weird and slightly offensive ones.
Until I started blogging most of the things I wrote about were dying…and the earth ending…and more dying.
Specifically dads dying.
Specifically mine.
I knew what I wrote was good if people cried when they read it. That really was my main goal. To make people cry. And also to get the sad out.
When I started blogging I had to learn how to write funny. People don't really like to cry everyday…and the loss that I had experienced was no longer something I wanted to define me.
Now I feel inspired to write, partly because I want my kids to know me…and all the funny things they do before we all grow old and forget them. Partly, I suppose, because you all talk back to me and are relate-able and what not.
But to be perfectly honest…every once in awhile my Mom calls just to tell me something I wrote was amazing. I suppose a part of me will always be inspired to write because of her.
Because she has a way of making me believe her.
******************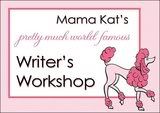 Now it's your turn!
Choose a prompt, post it on your blog, and come back to add your name to the link list below. Be sure to sign up with the actual post URL and not just your basic blog URL (click on the title of your post for that URL). For good comment karma try to comment on the three blogs above your name!!
The Prompts:
1.) Have you ever had a fight with a long time best friend and never made up? Do you think about her from time to time and think about contacting her? What would you say? What if it didn't work out? What if it did?
2.) The perfect fall photo…share a picture that defines fall for you in your neck of the woods.
3.) CONTROVERSY! Are the new security measures performed by the TSA really that bad? Take a stance!
4.) What inspires you to write?
5.) If you could relive any moment in your life, what moment would you choose? Write about it.
Share the post "Writer's Workshop: She Has A Way Of Making Me Believe Her"