3.) Drunk.
Looking back I don't really understand it. Maybe this is what growing up is all about…you suddenly start using your brain. Why does it take 30+ years to realize that getting wasted every weekend is not all it's cracked up to be?
And in some cases…we're still learning.
"Finals are over!! I'm so glad, what are we doing tonight I need to get wasted!!"
or
"I'm fighting with my boyfriend, OMG let's just go out and get wasted!!"
or
"I brushed my hair, LET'S GO GET WASTED!!"
We really didn't need a reason. And it was always the same thing. We would meet up for drinks at one of our apartments, try on a thousand different outfits before choosing the perfect tight top, spend an hour on our hair and make up, and listen to Snoop Dogg while drinking horrid concoctions of punch and vodka that consisted of far too little punch and far too much vodka.
We would spend hours chatting and giggling and primping all in an effort to look perfect for our fun and crazy night out on the town. We would proceed to go out, make ourselves sick, stumble back into our apartments, and spend the rest of the next day barely lifting our heads from the floor to eat cold pizza and watch re-runs of the Real World. A reality tv show that followed seven of our peers doing the exact same thing in a different place but having a whole lot more sex.
At least we weren't having sex.
That made what we were doing pretty admirable, no?
What I don't get now, in my very wise age, is why in the world we spent so much time looking forward to, planning, prepping, spending money, and just plain giddy about a night that would ultimately leave us feeling sick.
"Finals are over!! I'm so glad! What are we doing tonight I need to throw up!!"
or
"I'm fighting with my boyfriend, OMG let's just go out and puke!!"
or
"I brushed my hair, LET'S GO GET SICK!!"
Why did we not put these strange puzzle pieces together? Hmmm…when I go out and drink until I forget how to swallow, I wind up feeling worthless and lonely on my bathroom floor! How about Scrabble tonight instead!?!
I plan to share these thoughtful lessons with my children to help them avoid making the same mistakes I did.
When they turn 21 and think about celebrating with 21 drinks and a group of wild friends…you bet I'm going to bust out the board games,
"you youngsters don't want that poison in your bodies…believe ME! Maile pour these good people some milk, Kainoa bring in that tray of cookies, Laina roll that dice! YAHTZEE!"
******************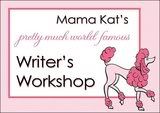 Now it's your turn!
Choose a prompt, post it on your blog, and come back to add your name to the link list below. Be sure to sign up with the actual post URL and not just your basic blog URL (click on the title of your post for that URL). For good comment karma try to comment on the three blogs above your name!!
The Prompts:
1.) Choose a word that encompasses 2010 and describe why. What word will you choose as your theme for 2011?
2.) If the way you spent your New Year's Eve is any indication of how the rest of the year will go, how would you say your future is looking right about now?
3.) Drunk.
4.) What happened in 2010 that you'd rather not repeat?
5.) Read and Respond: "If you want to make your dreams come true, the first thing you have to do is wake up." ~J.M. Power