Magic happened when I became a mother. I became a fighter. When you realize you are the only voice for the small creatures in your care, you learn to take that job seriously. No one is to harm your babies. You will prevent them from feeling pain at any cost. You are their protector and also your own protector, because when they hurt…you hurt. You do not want them to grow up with scars.
I cried when my first baby had her first shots because it symbolized the first time she'd ever experienced pain. She had never cried like that before. It was true pain in her world and I saw it as a branding. We were branding her for life. A sharp prick to her thigh, filled with vaccines to protect her from the world I brought her into. We had to hurt her to protect her from more hurt.
I dread the first heartbreak. The first lost friendship. The first moments of insecurity. Of feeling less than. I don't want them to suffer. I don't want them to be sad. I'd rather them stroll naively through life taking friendship for granted than to carry the weight of despair or loss.
To prepare them, I dote and love and hug and kiss and shower these kids with praise. I will infuse them with confidence.
Too strong, they will not be torn down by others. They will not be scarred.
I will navigate them past those waters. They will not bruise or scratch or cry or hurt. Helmets, knee pads, padded walls. Chocolate, clothes, and money. I'll do whatever it takes to keep these children happy.
And I'm magic. So it will work.
They will grow and lean on me and when they have a rough day at school they will come to me and I will buy them ice cream and we will watch movies and they will smile and be okay.
Because I said so.
They will grow and they will take chances and they will fall in love.
They will grow and they will be happy and they will choose their path.
They will find their way and fly free.
They will leave this protective nest and suddenly, the only one left scarred will be me.
******************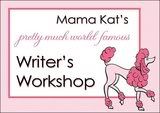 Now it's your turn!
Choose a prompt, post it on your blog, and come back to add your name to the link list below. Be sure to sign up with the actual post URL and not just your basic blog URL (click on the title of your post for that URL). For good comment karma try to comment on the three blogs above your name!!
The Prompts:
1.) Scarred.
2.) The last time my heart melted was because…
3.) A moment you truly felt relieved.
4.) A list of 20 ideas to make this your best year yet.
5.) I told you so! Write about a time you felt validated.